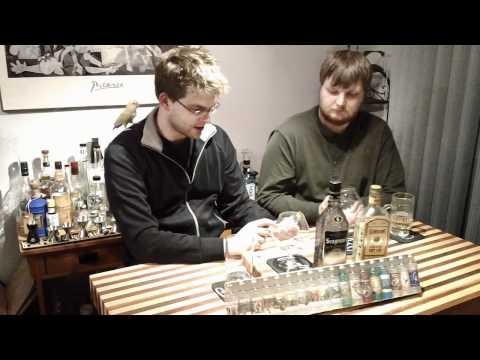 "Vodka Van Gin"
On the surface, when you first smell this gin, you will swear it's a vodka in a gin bottle. Taking light inhalations of this liquid require deeper breaths as subtle charcoal notes come to life. This Gin reflects a blank canvas. It's very clean smelling with not much going on. Light hints of Bubble gum, similar to whats left over on the wrapper, after the contents have disappeared.  10 botanicals included on this, although without Travis' super sense of smell; We're lost at sea. Second Reviewer described strong sense of Rubbing alcohol.
From our research, Van Gogh Gin started out in 1997 as Luctor International with a single product called Leyden Gin. Soon after that, the product was replaced by Van Gogh Gin. This is a recipe found in the Schiedam Distillery, and can be considered smooth while reflects a dry Dutch Gin.
Entry point gets us with a sour note, like pungent ripe fruit than burns going down with medicinal aftertaste.  Tastes like a cross between bread and licking an envelope. Could be plastic bottle it was housed in, which came from a sample pack.
The Art on the bottle is indeed the Canals of Amsterdam. A place I've never been, but when Neil fills out his Dream Vacation, I'm sure we will go.
The glass bottle which is truly a work of art. The Bottle is made in Germany, then it is etched in France, silk screened in Belgium, and the Corks are Portuguese. Finally, the gin is made and bottled in Holland. It sounds like more work was put into the bottle than the actual gin. We could consider citrus but feel that it resembles more of a burn from the alcohol than actual flavor.
It's tough for us to compare this to anything because we feel we are tasting a vodka that had botanicals added to it afterward. Now we could be wrong, and would love to have Van Gogh send us a bottle to compare, and this is the second time reviewing the product.  Third Times the Charm. After further thoughts were dedicated to this product, We came up with a revised rating.
PROS
Great Transition from Vodka To Gin
Beautiful Artwork on Bottle
Interpreted as Smooth
Aroma is non Confrontational
Would easily allow you to explore their other products
Cons