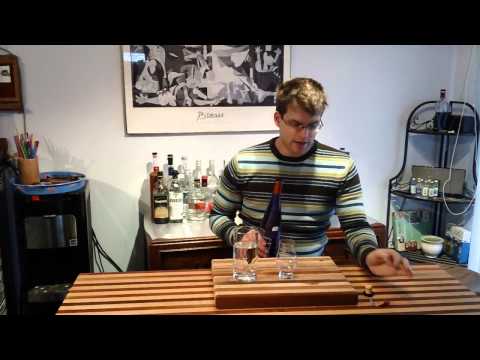 "Party Gin"
When opportunity knocks at your door, whether it's a Dutch Explorer of a New World or an email in your inbox, you need to be willing to go all the way. Knickerbocker Gin does not disappoint as it has something for the settler, and the pioneer. From the Traditional Standpoint, you are allowed to experience Juniper Bliss, it seems very heavy on the nose. The Juniper satisfies the Gin drinker in a realm they are familiar with. Fresh Lemon Zest pops you in the face, which is subtle, like washing your face with cool water. It's refreshing and feels very clean.
Exploring into the New World, you receive a warm welcome, with an incredible contrast of flavors, but not too overpowering, perfectly balance. This reminds us of the balancing act you see at the fair with multiple plates all held in harmony spinning with momentum. We also picked up hints of cinnamon, coriander, cardamom and orange peel which was quite nice. Spiciness toward the end that melts away like a cinnamon candy. Also, a bit of pepperiness which continues to ignite the taste buds. This is a gin that would pair well with food. I could see a lemon pepper tilapia, making me all smiles. There's a certain creamy after taste that makes you want to drink more. While writing this review, I couldn't stop drinking this stuff, a fine blessing in disguise.  This has the sophistication of a scotch, with the price tag of a well-rounded gin.
One Review said the bottle is the "Official Gin of U of I" and the Official Gin of the Chicago Bears" due to the color scheme we could agree.
The incredible thing about Knickerbocker Gin, is the ability to please both the traditional  gin drinker and the modern day explorer. Their new design of the bottle does not fit in a rail, because it doesn't belong in a rail. This is a Gin that is going to be the life of the party, the star of the show, and their cocktails will show this because of the complex balance of botanicals.
Below you will see not only the Gin Review for Knickerbocker Gin, but our interviews with the Master Distiller, Dennis Downing, and Rich Blair, Brand Ambassador of New Holland Brewery.
Without Brett VanderKamp, company co-founder and president, Knickerbocker Gin would not exist.
Without Knickerbocker Gin, We would not exist.
Pros
Clean, Refreshing, Satisfying
Traditional Taste with Modern Appeal for Versatile Cocktails
Easy to Drink, Fun to Mix
Well balanced; Something for everyone
We can't stop Drinking this Stuff
Cons
Initial aroma might give some Ginphobes the boot.