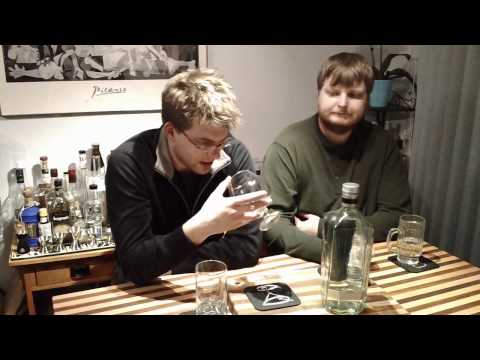 "Citrus Explosion"
Heavy Citrus Notes escape out the glass like a glade air freshener permeating the room, much like the city air of New York. As Neal commented, it put him into a Florida realm of Pure Citrus Bliss.
I was suddenly taken back to sipping on mimosas at the Kentucky Derby, then this lead me to the cocktail, the French 75. The combination was said to have such a kick that it felt like being shelled with the powerful French 75mm howitzer artillery piece, also called a "75 Cocktail", or "Soixante Quinze" in French.
French 75
* 2 oz. Gin
* 1 oz. simple syrup (or 2 tsp. superfine sugar)
* 1 oz. lemon juice
* Brut Champagne or other dry sparkling wine
Although this reminded much more of Citrus infused Vodka, then a gin, which would welcome Vodka Drinker's with open arm's yet Gin Veteran's looking for more complex aroma and flavor's should look elsewhere.
New Amsterdam claims that, based on a unique distillation method and precise flavor infusion, their gin embodies a uniquely smooth, crisp, slightly-citrus flavor.
Some Gin Purists  would not personally drink this straight because they are looking for a much more complex experience, but would recommend this as a base for any citrus heavy cocktails. Sometimes looking beyond the ordinary and into it's potential yields some charming results.
When you go to there website, New Amsterdam Gin Recipes, you will notice the recipes reflect a theme of citrus experimentation. A Great Gin to have some fun with in the realm of mixing, and a grand introduction into a citrus themed spirit.
New Amsterdam's marketing approach is targeted towards a younger generation of gin drinkers, looking to capitalize on the popular appeal of the "New York ideal" in addition to their claims on smooth and taste superiority.
In a realm monopolized by infused Vodka's, This Citrus infused gin steals the show, offering the ability to compete with the fruity flavored vodka's on the market. After a while, you forget you're drinking gin, due to the overwhelming exposure of the fine citrus notes. Very subtle, Mint and vanilla surface after further analysis, noticed after taking the time to explore this gin.
The value of this gin is exceptional and this can be used in any bar where the creative magic of a bartender can surface.
Pros
Citrus Lover's Gin
Easy to Drink
Fabulous Mixing Gin
Extreme Value
Great Introductory Gin
Cons
Not recommended for the Gin Fan, more of an infused Vodka Fan