Dry Fly Gin promises good things to those who wait.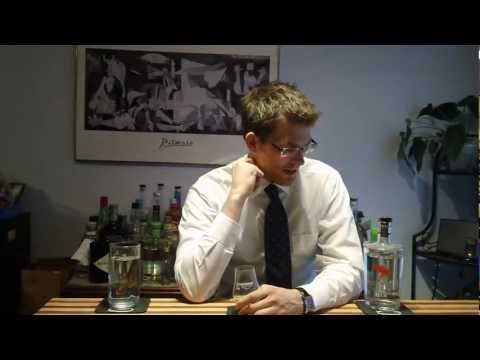 Dry Fly Gin
Take two fishing buddies, add apples, alcohol, and a 105 year old farm house and you get Dry Fly Gin.
I like when someone tries something completely unorthodox and new, that gives there perception of what gin should taste like. 
Gin making is much more challenging than vodka because of the botanicals. Include that all botanicals are organic and from Washington state and you have a very interesting recipe.
Apples, hops, lavender, mint and wheat; making there own spirit base, and I heard a rumor that the spirit changes as it gets colder.
I tried Dry Fly Gin in a rocks glass with spring water ice cubes, to see if the legends are true; the coldness tended to bring out an intensity that I was not familiar with. As I prefer drinking my spirits neat, at room temperature, since I feel there is a purity to them not to be hidden or masked. 
Dry Fly Gin takes time to enjoy as it was 18 months to get the permission to distill in the state of Washington. I believe taking time to enjoy this product reflects the time it took to create such a different gin. It lends itself a better understanding, and not to be taken for granted. My mystery reveals to where would I drink Dry Fly Gin?
I brainstormed ideas to make an appletini reference in my video review, and thought of ways to compliment this gin 🙂 I would start with a glass of ice in a high ball glass, and add 5 ounces of apple juice from a juice. Since the apple used is Fuji Apple from Washington, I would start with that and enjoy. When in doubt, go with fruit, and go fresh.
On a closer examination, I tried eating a granny smith apple with Dry Fly Gin, and I found hints of cinnamon coming through with each bite and sip, a nice compliment that you normally wouldn't think of with gin. Once I let the Ice melt on this gin, and dilute it's mixture, it became quite consumable.
Pros
When Gin and Fishing Collide
Spin Doctor Gin
Organic Washington Botanicals make us happy
Try Mixing with Fruit
Invigorating
Cons
Will you give this gin the time to let the ice melt and enjoy it?
 
How do you feel about Dry Fly Gin? Tell us in the comments below!