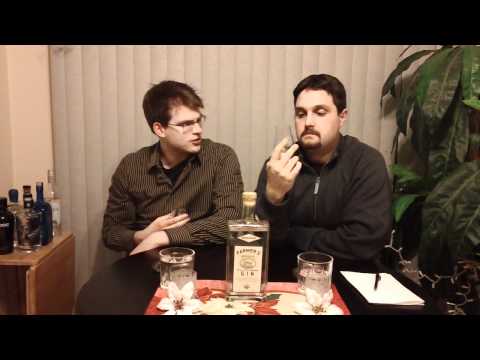 "Smallville Gin"
Farmer's Gin has that old world appeal with hard working, rustic greens, grains and Grit. True Grit. No Nuts about it. It's cerified organic by the USDA and has two new coming ingredients Elderflower and Lemongrass which take my back to my late teens when I was trying new things.
Visual
Nice shapes including green bordered diamond, circle, oval and rectangle on the bottle, telling us they have the tools of the trade to make a great gin. Going green is what this gin is all about and you can see the select botanicals in organic balance. Crop gatherer hits home with each botanical being collected and a clear bottle displaying it's liquid contents
Aroma
Not much going on in the smell department, almost like light smokiness with menthol when you breath out. I kind of thought of light cigarettes and tobacco, but with no added chemicals.  Vapor action like vicks vapor rub, but so light it's hardly there. Smells Fresh like laundry, pleasant and pleasing.
Entry
Juicy Citrus like biting into fresh fruit. It reminded me of juicy fruit gum with waves of spiciness and spike of burn. But still keeping it's pleasant matters. It's enough to make you want to continue and drink more.
MidPalate
Spiciness Continues and makes you want to drink more to cool it off. It's only logical. Refreshing and exhilarating, after a hard days work, this would be a great gin to cool off with, reflecting on you reap what you sow.
Aftertaste
Spiciness just doesn't stop and gears toward additional consumption. Grasping the bottle feeling heavy glass and nostalgic feel of paper label. It's sort of an eye opening, awakening experience with spice that is there, but it doesn't knock you on your ass, it makes you go back for more.
Final Thought: An interesting approach to a classic spirit. We love the spiciness that complements the juniper giving it a great interpretation on gin. Great Surprise with the Green Movement, we look forward to remarkable cocktails being made with this spirit.
Pro
Extra Spicy
All Organic
Bottled on Earth Day
Unique Ingredients of Elderflower and Lemon Grass
Might Land you a date with Hippy Chick at Whole Foods or Trader Joes
Con
Word of Mouth Advertising is all it's got
Twelve Angry Gins are a collection of a dozen gins that are up against each other for our Seal of Approval.
[catlist id=88 numberposts=-1 order=asc]